Help for workplace harassment in Sri Lanka at hand for the first time
---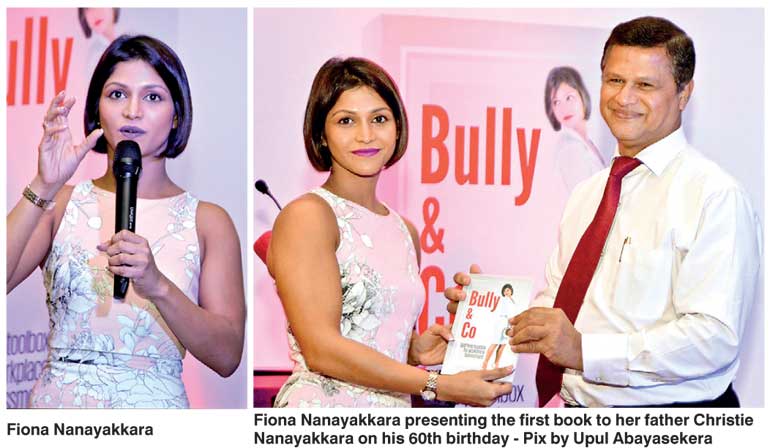 Sri Lankan professionals will now have a self-help book for guidance when facing harassment in the workplace.  Experienced corporate professional, Fiona Nanayakkara, brings to light the woes of workplace harassment in Sri Lankan corporate culture, and means of combating it, in a new book titled 'Bully & Co.'
'Bully & Co' acts as a self-help guide for employees facing workplace harassment and aims to create awareness of the mute topic. The book focuses on three distinct areas: the impact of workplace harassment on employees as well as organisations, examples of bullying in the Sri Lankan corporate world and most importantly, coping strategies and mechanisms via aself-help toolbox to overcome corporate politics and harassment.
Speaking about her motivation in writing the country's first self-help guide on the issue, Nanayakkara stated "There is a shocking percentage of the workforce (in Sri Lanka) that is subjected to bullying. Sadly, while there are a few global causes that work toward the elimination and education of harassment or bullying as a child, people tend to forget or ignore adult bullying. I'd like to make society more aware of harassment and how this impacts the modern workforce and workplace culture."
Nanayakkara has pledged to use all proceeds from the sales of Bully & Co toward creating awareness of the issue, and promoting open discussion on the topic among corporate entities.
Bully & Co is a must for anyone dealing with a bully in the workplace. As Sri Lanka continues to move forward in addressing sensitive topics such as racism, gender equality, workplace ethics, poverty, political influence and an entire onslaught of issues faced by a nation, workplace harassment – althoughapparent – hastaken a backseat. 'Bully & Co' breaks these boundaries and puts its readers in the depth of workplace harassment, whilst maneuvering them to safety at the end of it.
Nanayakkara has spent nearly a decade working in the corporate world of Sri Lanka for locally and globally renowned brands, ranging from FMCG to healthcare and manufacturing. She initially began her research to support the writing of her own experiences in the book, but it led her to discovering shocking statistics of workplace harassment; nearly 50% globally and as high as 75% in USA.
"The more I researched during the time taken to write 'Bully & Co', I learnt so much more about practical tools that can be used to cope with harassment. I knew instantly that this would be my giveback to society," she said.
The launch of the book, held at The RE.PUB.LK Colombo, was attended by family, friends and well-wishers. It began with an excerpt reading by Nanayakkara, followed by a book-signing and an opportunity for fans to speak with the author.
Several copies of Bully & Co have already made its way onto the bookshelves of many via pre-purchase, and is now available for direct purchase via amazon.com, wow.lk and inSarasavibookshops islandwide in all three languages.