Coinciding with celebration of International Women's Day, EY announces its 2017 Entrepreneurial Winning Women Asia-Pacific class. Selected for this year's program are 15 female business executives who lead their own organisations in Asia-Pacific. The 2017 class includes women from Australia, Greater China, Singapore, South Korea, Vietnam, and Sri Lanka.
The annual program, now in its third year in Asia-Pacific, is designed to assist established women-led businesses that are ready to become global market leaders, equipping participants with tools and information needed to help them grow and scale their businesses and to realise their full potential. The program will provide strategic support through leading guidance and access to the EY global entrepreneurial ecosystem.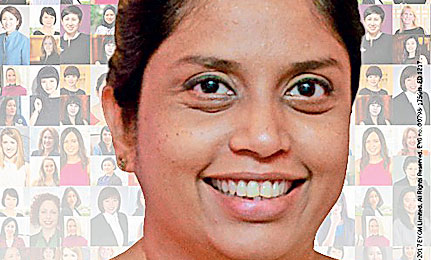 Annette Kimmitt, EY Global Middle Market Leader and Executive Sponsor, Entrepreneurial Winning Women, says:
"Our commitment to the advancement of women entrepreneurs has never been greater. Through Entrepreneurial Winning Women, we focus on building a strong community and providing women business leaders with access to the contacts and tools they need to achieve their next levels of growth. By providing the right information, networks and guidance we're able to help these talented women access growth capital, identify strong business advisors and put the processes in place to radically expand their companies."
Participants will convene for the first time in 2017 at a two-day conference in Mumbai on 15-16 May, as well as take part in a series of e-conferences, in-country business sessions and workshops throughout the year. The year-long customised program focuses on key areas such as:
Expanding knowledge through the latest information, research and executive dialogues.
Identifying and building strategic alliances.
Providing access to formal and informal guidance and support networks.
Strengthening executive leadership skills and identifying opportunities for business growth.
Increasing visibility for women entrepreneurs and their companies.
Asia-Pacific
Class of 2017
Selection criteria for the Entrepreneurial Winning Women Asia-Pacific program targets high potential women entrepreneurs with established businesses that are at least five years old; have annual revenues in excess of US$2m for the last two fiscal years; currently the majority owner (at least 51% ownership) of her company; and are ready to scale their operations and become global market leaders. The selected businesswomen are owners of companies across a wide variety of industries including technology, finance, lifestyle, energy, and food and beverage.
The Entrepreneurial Winning Women Asia-Pacific Class of 2017 is:
Lakmini Wijesundera, Co-founder and CEO, IronOne Technologies and BoardPAC (Sri Lanka): IronOne Technologies is a software solutions company and innovative software products provider that specialises in mobile-driven secure application solutions for large corporates. IronOne Technologies has offices in Sri Lanka, Malaysia, Singapore and the US, and operates in 15 markets.
Jill Ang, Managing Director, Ha Li Fa Ltd., (Singapore): Ha Li Fa Ltd. manufactures and distributes a wide range of fish, poultry and meat products such as fish balls, fish cakes, sausages, cheese, meatballs and hams. Since its inception, Ha Li Fa Ltd., through its 'BoBo' brand, has gained a foothold in local and international markets.
Tammy Barton, Founder and Director, MyBudget (Australia): MyBudget helps people achieve their financial goals by designing customised personal budgeting plans and providing caring money management support and structure that help free people from their money worries.
Li Chen, Co-founder and Chairman, Life Infinity and Beijing iLife3 Technology Co. Ltd. (Greater China): Beijing iLife3 Technology Co. Ltd. is a high-end medical and health services brand, providing anti-aging and cancer prevention medical services and precision health management. Its brands, 'Beautology' and 'Joy By Life Infinity', deliver online and offline services for selected global health care products.
Carrie Edwards-Britt, Managing Director, The Amazing Baby Company and MGI (Australia): The Amazing Baby Company is a globally recognised distributor of baby products. MGI manufactures and distributes innovative golf buggies and golf-measuring devices.
Jessica (Eun Jung) Lee, Chairman, Korea McNulty Co., Ltd. (South Korea): Korea McNulty Co., Ltd. is one of South Korea's largest roasted coffee bean manufacturers and suppliers with 200 roasted coffee bean products. The company has expanded into pharmaceuticals and aspires to lead research and development in areas of alternative food for the future.
Kate Morris, Founder and CEO, Adore Beauty (Australia): Adore Beauty is one of Australia's leading online beauty stores. They specialise in selling a wide variety of luxury, professional and mass beauty brands.
Kim OanhThi Nguyen, Founder and Executive Chairman, Wrap & Roll (Vietnam): Wrap & Roll is a contemporary Vietnamese restaurant offering a wide variety of traditional dishes, with a special focus on the unique Vietnamese dining style of wrapping and rolling.
Jenny Paradiso, Co-founder and Managing Director, Suntrix (Australia): Suntrix provides solar energy solutions and related services for homes, business and government. Their solar and energy monitoring system — myWatt — is sold nationally in Australia and exported overseas.
Helene Raudaschl, Managing Director and Co-owner, Indoguna Singapore (Singapore): Indoguna Singapore imports high-quality produce and ingredients from around the world to satisfy a growing demand to eat better quality products. They also operate a fully-fledged butchery and production facility to produce value-added products and an online retail arm in Singapore, named greengrocer.com.sg that caters to homer users.
Wendy (Xiao) Wang, Founder and CEO, Chensao (Beijing) Technology Co. Ltd. (Greater China): Chensao is a large and fast-growing women's community in China that encourages Chinese women to develop self-discipline and independence via its life and body management products and app.
Francesca Webster, Founder and CEO, The Australian Skin Institute Ltd. (Australia): The Australian Skin Institute Ltd. is an advanced cosmeceutical skin care company that provides innovative skin care formulations. Their products are compounded with potent ingredients and packed fresh every six weeks to ensure customers receive the most active and effective skin care products available in the world.
Yaqing Shang, President, Wang Shun Ge (Beijing) Investment Management Co., Ltd. (Greater China): Wang Shun Ge's restaurants include Wang Shun Ge Seafood Restaurant, Business Club and Classic Cantonese Hotpot. Wang Shun Ge has a popular dish called, 'Yutou Paobing'. The company has 18 branches in Beijing, Xi'an and Qingdao, with more than 2,000 employees.
Katherine (Xiaojuan) Sheng, Co-founder and CEO, Mexteam and Mexarts (Greater China): Mexarts is a global high-end furniture and lifestyle products, and architecture space design solutions brand with a strong team of global leading furniture designers, manufacturers and service experts. The company has more than 13 shops in major cities across China, and also sells to Japan, Europe and more than 15 other overseas markets.
Tongyu Shou, Chairman, Weida Hi-tech Holdings Ltd. (Greater China): Weida Hi-tech Holdings Ltd. provides a wide range of services, including IT products distribution and cloud services, fast-moving consumer goods distribution, quasi-financial services, equity investment, as well as real estate development services, energy development and industrial park development.