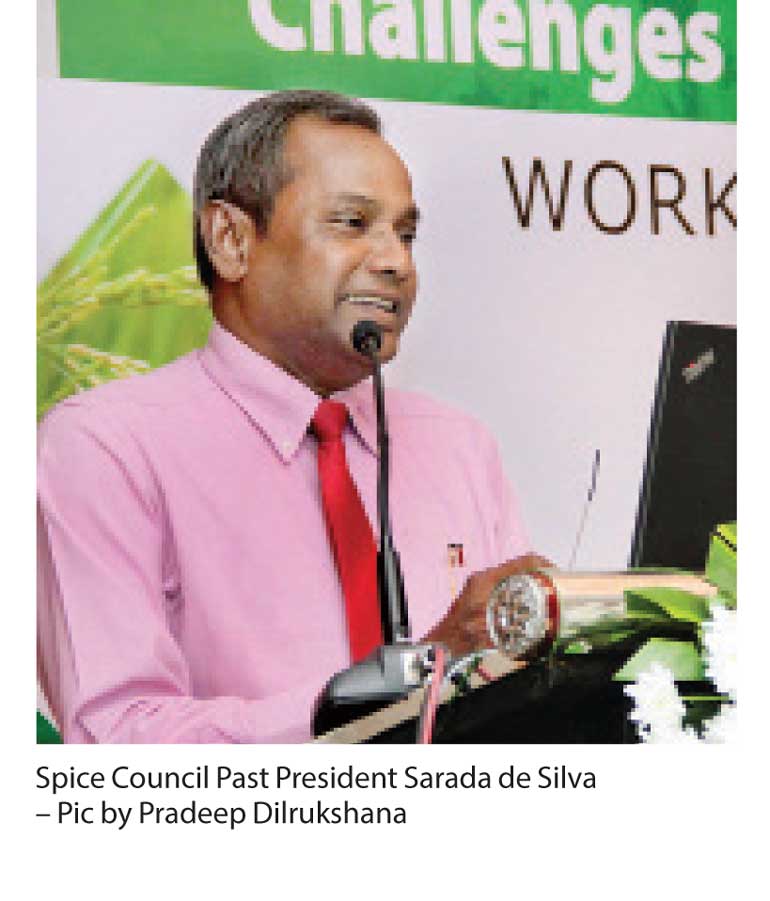 SL no longer produces high quality, high value cinnamon due to massive competition
EDB, Primary Industries Ministry collectively work on introducing minimum standards to cinnamon
Cinnamon industry in a tough battle to obtain GI certification, EDB submits application to EU
Suggests stakeholders capitalise on tourism industry by offering value-added spice products
By Charumini de Silva
Sri Lanka's cinnamon industry has presently reached a crossroads, Spice Council Past President Sarada de Silva warned yesterday.
He said that although Sri Lanka was the largest true cinnamon producer in the world, massive competition and low-quality cinnamon production during the past two to three years was killing "the golden goose that lays golden eggs".
"Too many exporters coming into the market has destroyed the Ceylon Cinnamon brand. Higher quality, high value cinnamon is no longer produced. We are the only country that produces 'true cinnamon', but we ended up competing with each other and gave it cheaper. All the good work that has been done during the past 10-12 years has been shattered," he told a workshop titled 'Challenges in Agriculture: The Way Forward' organised by the National Agribusiness Council.
He called on stakeholders to immediately address this issue while acknowledging that the Export Development Board (EDB), along with Primary Industries Ministry, was currently working to see whether they could impose "minimum standards" as it had with Ceylon Tea.
Noting that the highest export earnings from spice crops in Sri Lanka were recorded from cinnamon with $ 159 million last year, he stressed that the amount could be doubled if the industry maintained quality and prices.
In terms of marketing, he emphasised that the cinnamon industry was once again facing a tough battle to get the geographical indication (GI) certification for Ceylon Cinnamon in place. The use of a geographical indication may act as a certification that the product possesses certain qualities, is made according to traditional methods or enjoys a certain reputation due to its geographical origin.
"Unfortunately Sri Lanka does not have the highest possible protection in the world. We have been fighting to get GI certification for over seven to eight years. There is nothing wrong with our products or with international laws but it is simply because Sri Lanka does not have a GI register here in the country," he added.
However, de Silva said the EDB had now submitted the application to obtain the GI certification for Ceylon Cinnamon to the European Union. Stating that India has 724 GI certifications for handicrafts, he urged that the authorities should apply for GI certification for other Sri Lankan products as well.
Pointing out that 56% of Sri Lanka's agricultural exports consist of spice and allied products as well as essential oils, he stressed that the overall performance of the industry was commendable but the industry could do better if challenges were addressed. Last year Sri Lanka earned $ 72.18 million from pepper exports, $ 13.46 million from cloves, $ 13.48 million from nutmeg and mace and $ 47.6 million from essential oils.
Due to the drought last year, de Silva asserted that pepper production dropped by 50%, while nutmeg and mace crops also declined. He said there was room for improvement, especially in the essential oil export market.
Land, production (quality volumes to export), productivity, climate change, lack of good agricultural practices (GAPs)/good manufacturing practices (GMPs), lack of quality seed material, a shortage of human resources and sustainability were highlighted as key concerns of the industry.
He also suggested the stakeholders capitalise on the thriving tourism industry by selling value-added spices to the 2.5 million tourists expected this year.